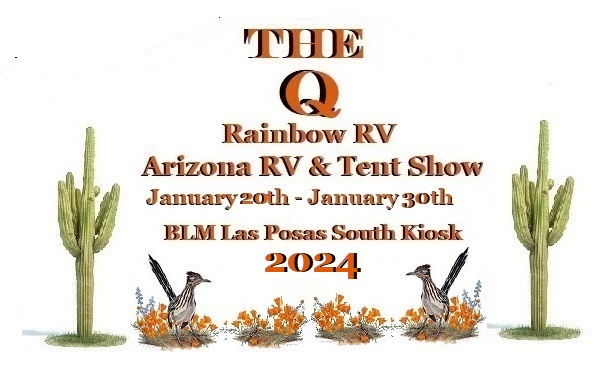 Arizona Chapter
Quartzite Annual RV Show & Pilgrimage
Kamp Trips at La Posa South BLM Kiosk

January 19th- January 29th 2024

We will be having 2-events; 1-event for the 1st weekend of the RV Tent Show January 19th-22nd and......... 2nd one January 26th-29th for the 2nd weekend of the show; You can choose to attend 1 or both events if your heart desires :). The Host will arrive January 14th to secure a camp area.

Be sure to log onto the Website to RSVP that your attending; look for the Quartzsite Banner and hit "Going" button.


Rainbow RV Members it is time for the Annual Quartzite RV Show & Pilgrimage coming next January 2017. Rainbow RV members have been gathering at Quartzsite for the last 17 years. Next year will once again be held at the La Posa South BLM kiosk to the East.https://goo.gl/maps/U75z3hUzdYJ2 Cost for the event is $40.00 for any length of stay up to 14 days. $40.00 is collected when you pull into the BLM (Bureau of Land Management) Kiosk to begin your stay. Make sure you bring full water and a empty septic tank. This dry camp event is a favorite for member who know how to rough it in style. Last year more than 106 rigs gathered and enjoyed the vast Arizona Desert. The dates are set so be sure to make room on your calendars for 2024. All information will be updated here. Click on the "GOING" button on the Quartzsite Profile Banner that you plan to attend. If you never dry camped now is the time to learn in the comfort and security of our members.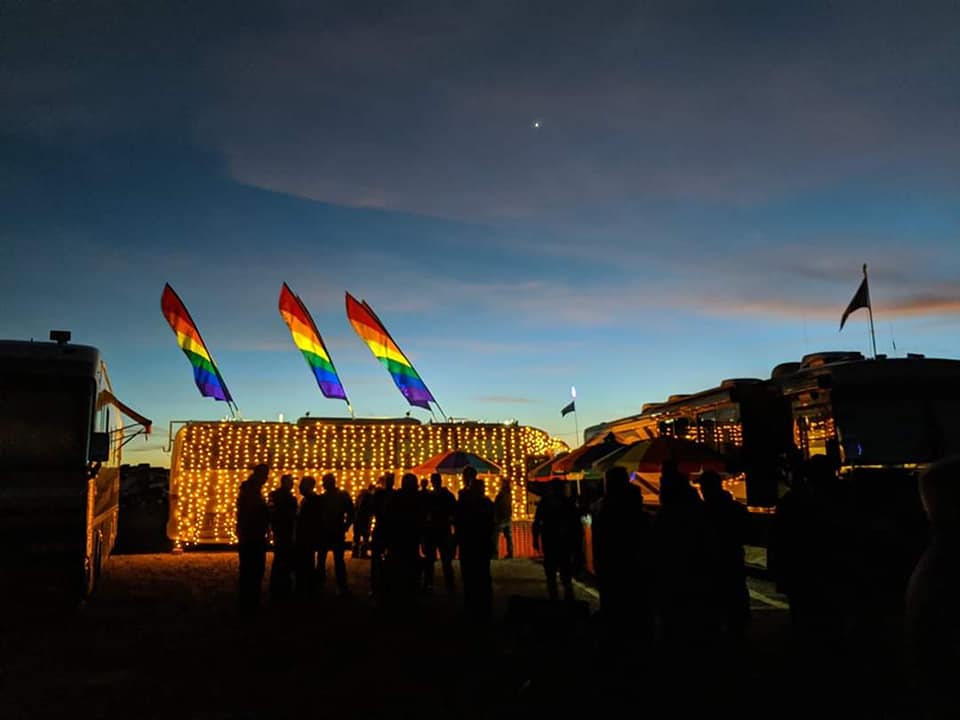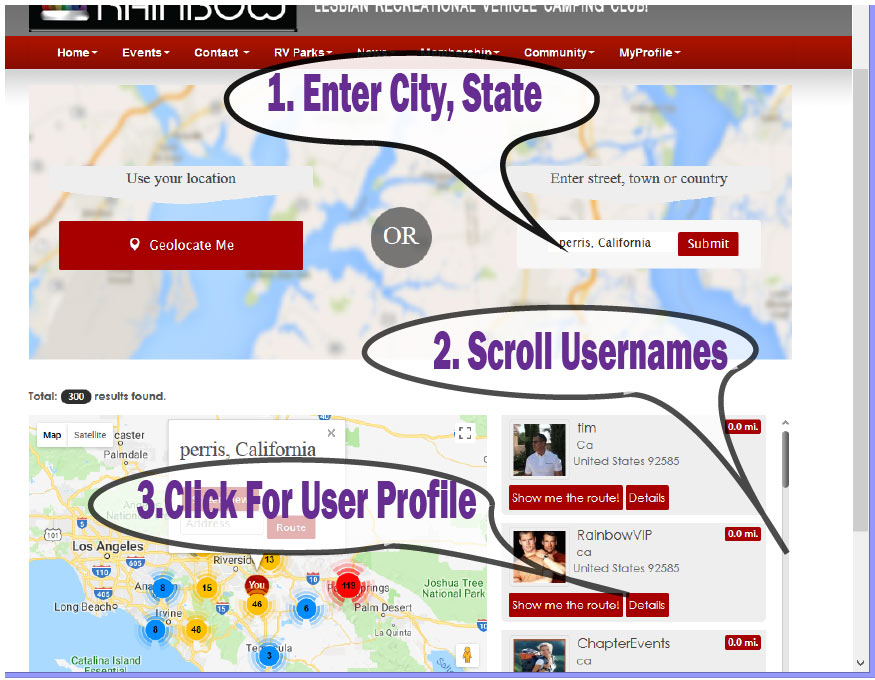 RainbowRV membership has grown to over 10,000. Our vast online community member list is private and only searchable by registered members. The Free Introductory subscription grants access to this source as well. Check out our members map and find members who In your area or members camping at the resort you are vacationing at today. Click the "Join Today button at the top of this page, set up a profile, verify your email address and join the fun and adventures with members across the country.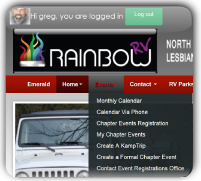 RainbowRV events are a major attraction to the club. Two categories of events are listed. KampTrips and Formal Events. KampTrips are member to member organized impromptu gatherings where one member post their plans to camp and welcome other members to join in. RainbowRV Formal Events are organized thru club management with payment made online. The club pays deposits, host budget and final site payment to the rv-park with the funds collected. Most formal events are member volunteer hosted. All formal events are club managed and organized Video tutorial on registration process